VivaLift Power Recliners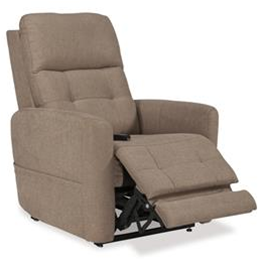 VivaLift!™ - Perfecta
Colors: Merino Fawn and Merino Steel

VivaLift!™ Power Recliners
Elevate Your Lifestyle!
•Power Lumbar for personalized ergonomic comfort
•Full-Width Power Headrest to Learn More
Product Details
VivaLift!™ - Perfecta
Colors: Merino Fawn and Merino Steel

VivaLift!™ Power Recliners
Elevate Your Lifestyle!
•Power Lumbar for personalized ergonomic comfort
•Full-Width Power Headrest to lift head, neck and shoulders
•Lithium Battery Back-Up is an industry first! Abundant power lasts and replaces ordinary one-time-use backups
•Fashion Forward Styles set these chairs apart from all others!
•USB remote
•Footrest extension
•Infinite lay flat
Model Perfecta PLR945M
Weight Capacity 375 lbs.
User Height Range 5'4" - 6'0"
Seat to Floor 19"
Seat Depth 20"
Seat Width 22"
Top of Back to Seat 25"
Back Style Split Button Back
Fully Padded Chaise Yes
Footrest Extension Standard
Recline Positions Infinite, Lay Flat Position
Distance From Wall 15"
Overall Chair Width 31"
Chair Weight 142 lbs.
Warranty 7-Year Pro-rated
The information contained herein is correct at the time of publication; we reserve the right to alter specifications without prior notice.