Tamper-Proof Magnetic Pull Cord Alarm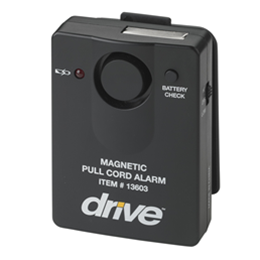 When magnetic pull switch is removed, alarm is activated.
Pull switch can be activated from any direction.
Convenient On/Off switch for easy activation and deactivation.
Easily mounts on wheelchair or bed.
Learn More
Product Details
When magnetic pull switch is removed, alarm is activated.
Pull switch can be activated from any direction.
Convenient On/Off switch for easy activation and deactivation.
Easily mounts on wheelchair or bed.
Cord adjusts from 28"– 58".
Alligator clip allows for attachment to patient's clothes.
97 – 103 dB.
One 9V battery included.
Includes screwdriver to remove battery cover.
Model # 13603