Jazzy Air® Power Chair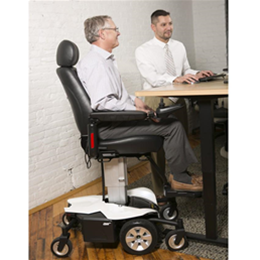 The Jazzy Air® is a new era in power mobility. It's social mobility. Whether at home or on the town, the unique appeal of Jazzy Air will elevate your independence and social confidence in style.Reaching
Learn More
Product Details
The Jazzy Air® is a new era in power mobility. It's social mobility. Whether at home or on the town, the unique appeal of Jazzy Air will elevate your independence and social confidence in style.

Reaching greater heights. Quickly raise and lower your seat height while traveling at speeds up to 3.5 MPH. The patented Mid-Wheel 6® Drive Design and Active-Trac® Suspension keep all 6 wheels planted on the ground for maximum stability in both elevated and non-elevated positions.

Form & function. Bright LED marker lights illuminate the Jazzy Air's elegant look, while an ultra-comfortable high-back sports seat, stylish wheels and casters, and contemporary footplate design truly set it apart. Available in an array of colors including Pearl White, Black Onyx, Sapphire Blue, Citrine Yellow, Rose Quartz and Amber Orange.

Social mobility… it's a new era. A power chair shouldn't limit your environmental reach and social poise. It's your choice. Rise up and let your personal freedom shine through in the Jazzy Air.