Invacare Heavy Duty Walker — 700lb Capacity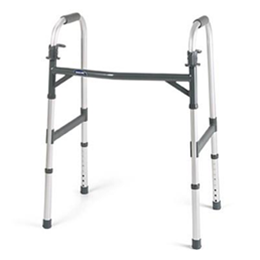 PRODUCT SUMMARY

The Invacare Bariatric Adult Walker provides a wide and deep frame that can support an individual up to 700 lbs. The dual-release buttons provide both visual and audible "locked" cues for the user. The durable
Learn More
Product Details

PRODUCT SUMMARY

The Invacare Bariatric Adult Walker provides a wide and deep frame that can support an individual up to 700 lbs. The dual-release buttons provide both visual and audible "locked" cues for the user. The durable aluminum frame provides maximum stability for consumers and the legs variable height adjustments.

FEATURES

· Deep and wide frame for larger patients.

· Generous patient height range of 5'3" to 6'10". Note: These are just client height approximations.

· Walker comes equipped with dual-release buttons that are easy to operate and provide audible locking cues.

· Lightweight stable aluminum frame with double cross bracing

· Wheel Kit Model #6372 can be added.