Invacare Full-Electric Homecare Bed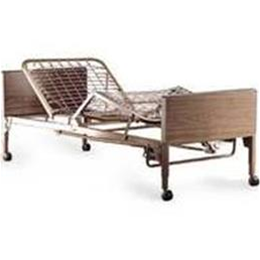 Convenient for both the user and caregiver to adjust body position and bed height. Users and caregivers can easily adjust body position and bed height with intuitive hand pendant. Maintenance is easy with color-coded junction Learn More
Product Details
Convenient for both the user and caregiver to adjust body position and bed height. Users and caregivers can easily adjust body position and bed height with intuitive hand pendant. Maintenance is easy with color-coded junction box connections. Interchangeable bed ends reduce inventory and are washable with standard water pressure.
Product ID: 5410IVC
HCPCS Code: E0266**
HMESA CODE: 10-10-02-04
• Durable panels are impact and scratch-resistant and washable for easy cleaning
• Rubber casters are non-marring
• Ergonomic hand pendant features heavy-duty, strain-relief cord
• Convenient access to emergency manual crank for peace of mind
• Waterproof enclosures on the motor system for easy cleaning
Dimensions: 88"L x 15"-23"H x 36"W
Sleep Surface: 80"L x 36"W
Product Weight Capacity: 450 lb.
Patient Weight Capacity: 350 lb.
Code Approval: Regulatory Standard: UL962, CSA Certified
Warranty: Limited Warranty: 5 Year Welds, 2 Year Mechanical/Electrical