3" Universal Walker Wheels with Rear Glides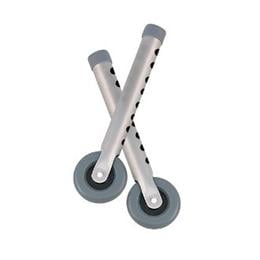 Drive's set of 3-inch walker wheels converts folding walkers into wheeled walkers. The wheels are compatible with all drive walkers. Features: Allows for 8 height adjustments Rubber wheel allows walker to
Learn More
Product Details
Drive's set of 3-inch walker wheels converts folding walkers into wheeled walkers. The wheels are compatible with all drive walkers.

Features:
Allows for 8 height adjustments
Rubber wheel allows walker to roll easily and smoothly over irregular surfaces
Comes with rear glide caps and glide covers, allowing use on all surfaces
350 lbs. weight capacity
For additional product information, including several detailed pictures of included components, further benefits and specifications, and available colors, click on the Product Detail PDF located below, under the Additional Resources tab.